YORUBA EGUNGUN OBJECTS, Nigeria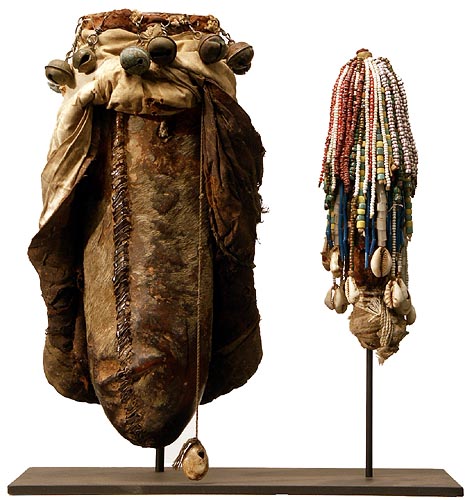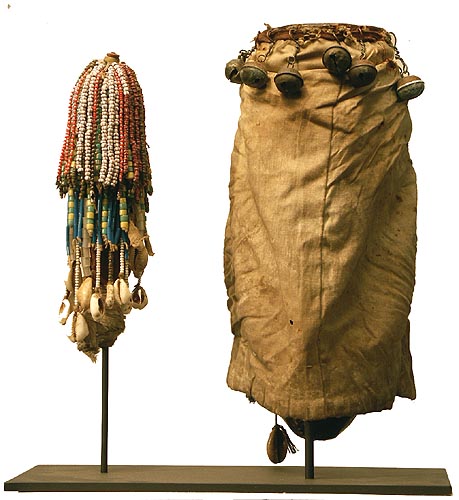 Photographs © Hamill Gallery
YORUBA EGUNGUN OBJECTS
animal hide, cloth, bells, beads, metal, string cowrei shells
12" high x 12" wide x 12" deep, mounted
$3000

We mentioned that we had no idea of how this item might have been used and are grateful for the following contribution received from a collector in Florida, John David McGee, whose family lived in Nigeria for more than thirty years, and who lived there as a child.
I think both these items were used as part of the "Egungun" masquerade in festivals which occur (usually around Sept-Oct) in Western Nigeria.
When I was about ten years old (early 1950's), at Ogbomoso (Western Nigeria), there was a group of masqueraders who came from town by the edge of the property where my family was visiting at the time. A bunch of us (white) kids were standing there watching, fascinated with it all, when this (primary--center of attention) "egungun" came right in front of us; lifted the front of his garment; and continued dancing while showing a similar kind of object which was being used as a (super) phallic symbol. Also, in regard to the smaller, accompanying (cluster of beaded items), this was the sort of thing carried by hand by some masqueraders (along with the long stick they would use occasionally to beat kids who got too close, or women--and sometimes men--who might be reluctant to give gifts--money--or show sufficient respect).
GO TO YORUBA OBJECTS PAGE
GO TO YORUBA ART PAGE