BAGA STYLE PROTECTIVE SERPENTS, Guinea
In spite of its appearance, this serpent figure shows no evidence of age or use and was probably made to be sold.
---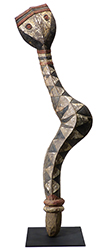 Baga Style
Snake 35
58" high
$2000

Photographs © Hamill Gallery
BAGA STYLE , PROTECTIVE SERPENTS, Guinea
The serpent, Kakilambe, is a protective spirit that presides over young men's initiation camps. It appears in the village on ritual days and to announce the return of the boys as men. Most versions, even the very large ones, were worn as headdresses (see image below).
We recommmend Art of The Baga: A Drama of Cultural Reinvention by Frederick Lamp (Museum for African Art/Prestel)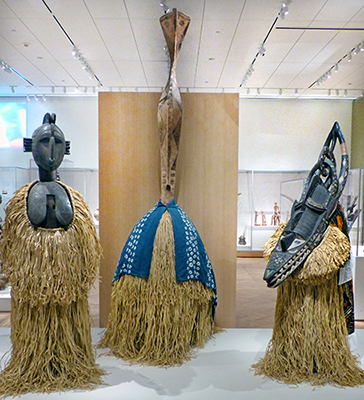 Baga Nimba, Baga Serpent and Baga/Nalu Banda headdresses
at Art Institute of Chicago.
GO TO BAGA ART PAGE


GO TO ANIMALS IN AFRICAN ART PAGE

GO TO NEW ADDITIONS PAGE
MJM02172017