BURA, STONE HEADS, Niger



Photographs © Hamill Gallery
BURA, STONE HEADS, Niger
Named for the Bura archeological site near Bura in southwest Niger, the Bura culture produced a variety of distinctive artifacts made of clay, iron and stone. Little is known of the Bura civilization (ca. 3rd - 11th centuries), which was first discovered in 1975; excavations began in 1983. Most of the objects dug up are terra cotta heads or vessels.
These stone heads , which cannot be tested, were purchased from the same sources as the Bura terracotta pieces which have been vetted as authentic. Some may have been recarved, or incised lines could have been added or deepened. Some could possibly have been made to be sold. All of them that we have seen are similar to ours, whether at auctions or at other galleries. All have a shaft form so they were probably placed in the ground.
All are drilled and mounted as the one below.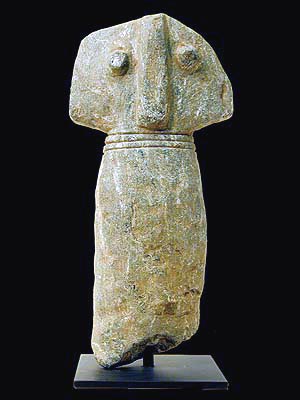 GO TO BURA STONE HEADS ARCHIVES PAGE (ALL SOLD)
GO TO BURA TERRACOTTA HEADS PAGE
GO TO BURA VESSELS PAGE