BURA TERRACOTTA VESSELS, Niger
Our BURA vessels are now offline until we can take new photographs and make full condition reports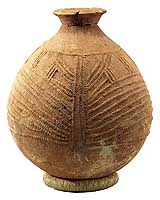 Photographs © Hamill Gallery
BURA, TERRACOTTA VESSELS, Niger
Little is known of the Bura civilization (ca. 3rd - 11th centuries) which was first discovered in 1975. Excavations began in 1983. Most of the objects dug up are terra cotta heads or vessels. The tall vessels were buried with the neck or opening down, usually contained remnants of cloth or objects probably associated with with funeral practices. Many were discovered by farmers digging in their fields, hence the tops broken by shovels.
These richly ornamented terracotta receptacles were mostly recovered in a remarkable state of conservation. Carbon dating has established their creation between III and XI century A.D. Used as funeral offerings, they were found buried with their openings facing down and filled with the deceased's possessions, teeth, and a few key bones. This ritual shows the strong symbolic and indisputable belief of fruitfulness of life and death since after birth, rebirth would follow.... Berardo Collection
PLEASE NOTE: Almost all have damage. Many have native repairs and attempts at restoration. This does not show up on photographs, except for the frequently mismatched pairings of fragments. We can provide additional photographs if necessary.
SHIPPING: These pieces are fragile. The larger pieces must be crated and shipped by an art shipping specialist.
GO TO AFRICAN POTS PAGE
GO TO AFRICAN VESSELS PAGE
GO TO HOLDING PATTERNS EXHIBITION PAGE
GO TO BURA STONE HEADS PAGE
GO TO BURA TERRACOTTA HEADS 2 PAGE