DOGON PESTLES, MALI
All of our photographed pestles are sold. Other similar ones are available.

Photographs © Tim Hamill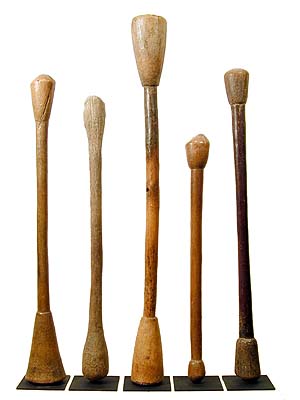 DOGON, PESTLES, 31-46", $150@, Mali
These pestles have been vetted as being authentic with signs of use and age.
These pestles, of very hard wood, were used to grind grain and other foods in large mortars (not yet photographed). They are mounted (removable, with one drilled hole) on a pin on 6" square iron stands. Price includes stand.
Some pestles have minor, stable cracks.
GO TO DOGON FIGURES PAGE
GO TO DOGON MASKS PAGE
GO TO DOGON ART PAGE
GO TO ART OF DOGON EXHIBITION PAGE
GO TO FAMILY MATTERS EXHIBITION PAGE
GO TO MATERNITY FIGURES PAGE
GO TO COUPLES PAGE
GO TO AFRICAN FIGURES PAGE
GO TO MASKS AND HEADS PAGE
GO TO AFRICAN METALWORK PAGE
GO TO NEW ADDITIONS PAGE
GO TO AFRICAN STOOLS PAGE