EJAGHAM ( EKOI ) HEADDRESS 33, Nigeria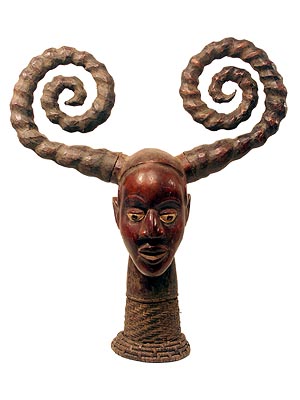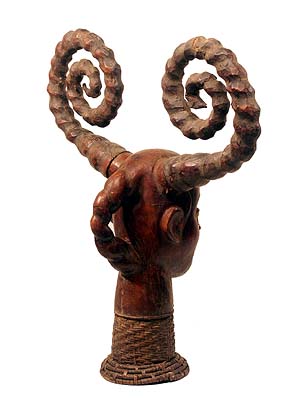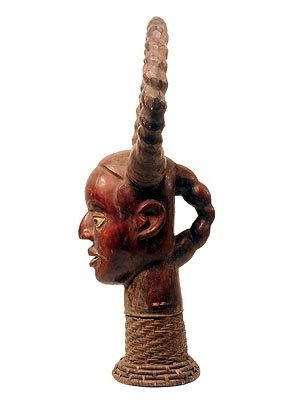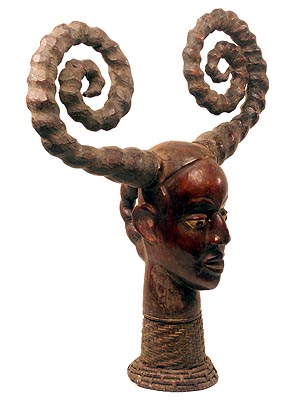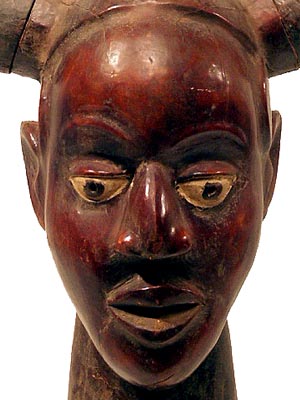 Photographs © Hamill Gallery
EJAGHAM, HEADDRESS 33, 29" h.x 25" w., $1200, Nigeria, SOLD
In the southeastern forest region of Nigeria, the Ejagham (Ekoi) people live in a politically decentralized group of small, scattered villages with with several clans united under the leadership of a priest/chief (Ntoon). A Ntoon is responsible for the ritual activities of the community while the political functions are performed by various societies of elders and age-grade associations of young men.
The important art forms of the Ejagham people are connected with the institution of the Ntoon and with the men's and women 's associations. The best known of these art forms are the large, skin-covered headdresses (crest masks) and the most distinctive of these elaborate sculptures are the realistic female headdress topped with curled "horns" representing elegant hairstyles. Crest masks are attached to basketry caps worn on the top of the head and were made by an artist who carved the form from a single piece of wood and covered it with soft, untanned antelope skin that had been soaked in water for several days. He stretched and tacked the skin into place until it dried and stiffened. Eyes, scarifications, and hair were often carved separately and pegged into the finished piece. Before being worn, the headdress was painted or colored, then adorned with metal pieces, wooden pegs, real hair, porcupine quills, feathers, or feathered rods stuck into holes at the top.
The headdress would have been secured on the wearer's head by a string under the chin, with the body covered entirely by a long gown. These might have been worn by a woman in the context of an Ejagham women's society called Ekpa, which was responsible for the education of the girls in preparation for marriage. The headdress could represent a girl that evokes ideal female beauty and is ready for marriage. The depicted hairstyle was worn during the coming-out ceremony following the girls' seclusion.
RETURN TO EJAGHAM ( EKOI ) HEADDRESSES PAGE
GO TO EJAGHAM ( EKOI ) HEADS PAGE
GO TO EJAGHAM ( EKOI ) JANUS HEADS PAGE
GO TO EJAGHAM ( EKOI ) JANUS HEADDRESSES PAGE
GO TO EJAGHAM ( EKOI ) ANIMAL HEADDRESSES PAGE