EKET STYLE SHIELD 1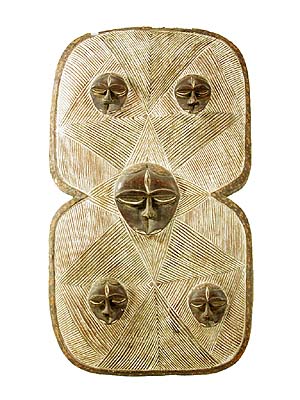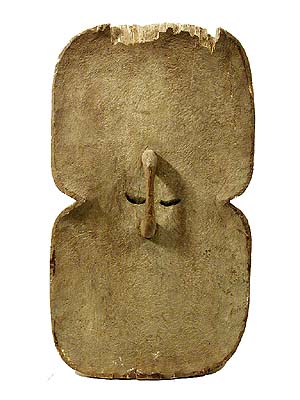 Photographs © Tim Hamill
EKET STYLE s SHIELD 1, 30.5", $350, SOLD
In traditional Africa, shields were used not only as defensive weapons, but also as decorative or ritual objects filled with symbolic meaning. They can be carved from wood, woven, made from a variety of hides and even metal.
Eket Sculpture shows traditional masks, figures, shutters, doors and other objects from the Eket people, a subgroup of the Ibibio of Nigeria. Recognizable for their decorative patterns and repetition of shapes, Eket sculpture takes several forms.
This Eket shield shows no evidence of age or use and was probably made to be sold.
RETURN TO EKET ART PAGE
GO TO AFRICAN SHIELDS PAGE
GO TO WHITE EXHIBITION PAGE
GO TO EKET HEADS PAGE
GO TO EKET MASKS PAGE
GO TO EKET FIGURES PAGE
GO TO EKET SHUTTERS PAGE
GO TO EKET CURRENCY PAGE
GO TO AFRICAN DOORS PAGE
GO TO AFRICAN DOORS EXHIBIT PAGE