AFRICAN DOORS

This page is a record of an exhibit that took place
in 2001-02. The individual links below will take you to
the CURRENT VERSION of the pages
that formed part of that exhibit.



Dec. 1 - Feb. 23, 2002
NEW CATALOG ONLINE of this exhibition, Follow links below for images, sizes, prices and more information
---
AFRICAN DOORS:
Our new exhibit is of one of my great loves, and weaknesses, African doors. Created with qualities usually reserved for sculpture of ritual or religious importance, the doors show an impressive range of styles, all worthy of critical appreciation and with a romantic sense of age and timeless history.
Most of the doors are hung as wall pieces, but could be mounted on bases as sculptures. The backs are usually plain and those views are not shown unless it is critical to the piece. All were photographed in direct sunlight, which worked well for some and not for others. The splits or gaps are shown clearly; when hung those areas are shadowed and are not as noticeable. Many of the larger pieces are difficult or expensive to ship. The few doors that are fragile are described as such. The doorlocks on the doors all slide but may not lock.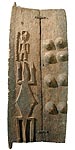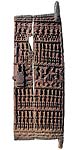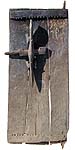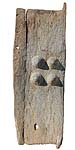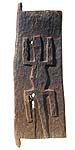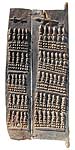 One focus is on a strong and varied collection of over 40 Dogon house doors, complex or plain, symbolic or abstract, solid or weathered by the elements and use, many with their original doorlocks, all of 2-3 wood panels joined by iron clips.





Dogon granary doors, much smaller, are usually embellished with figures and sacred images that communicate symbolic messages, invoking spirits or deities for protection and making the door sacrosanct. We have over 35, ranging from simpler old ones to the complex ones popular today.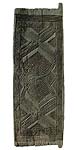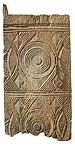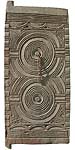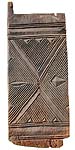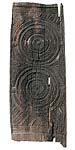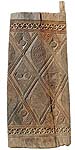 The intricately carved doors of the Igbo people of Nigeria form a third impressive group. Carved of a sacred hardwood, iroko, for major patrons, they served as entrance portals to an obi, the male meeting house. Our collection of 20 doors plus two side panels is exceptional with most showing complex patterns and generations of slow weathering.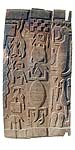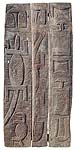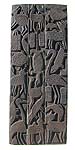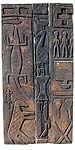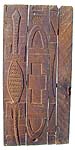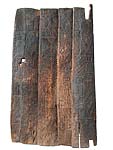 Twelve Nupe doors, also from Nigeria, are embellished with reliefs of animals, objects and symbols. Made of joined plank-like panels, they probably communicated messages, invoked spirits or gods and brought status to their owners.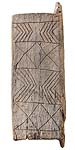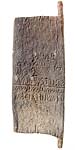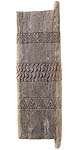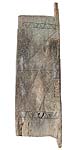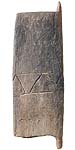 From Zimbabwe come the 10 plainer, massive doors of the Tonga people, with simply inscribed abstract patterns.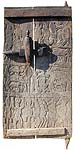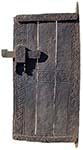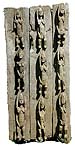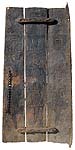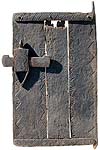 The Bamana people make and use doors that are somewhat similar to their neighbors, the Dogon.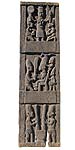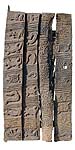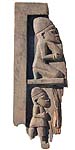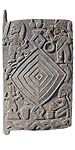 Yoruba doors, often made by well-known carvers for prestigious homes and palaces, usually have strong figurative carving in deep relief.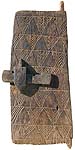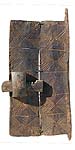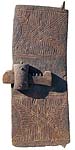 Mossi doors, like those of the Igbo, are abstract, but have doorlocks similar to the Dogon and Bamana but more massive.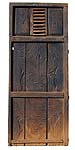 The Bamileke are better known for their masks, stools and beadwork but the two small doors with doorframes are typical and are mounted in the wall about two feet off the ground. The door lifts out; it is like the upper half of a "French" door. The tall door shows a European influence in its construction but has a wonderful carved design,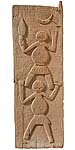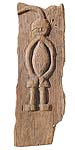 Carved from large single planks, Ishan doors, though rare, are usually figurative.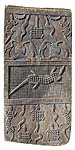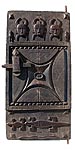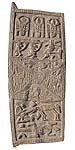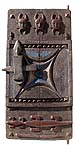 Although less well known than their masks and figures, Senufo doors share their iconography.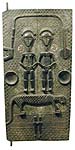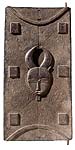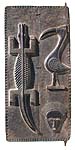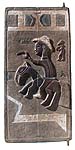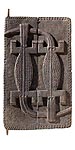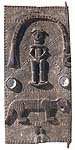 Our Baule doors show the careful execution usually characteristic of Baule masks and figures.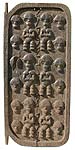 The Fang are not known for their doors but for their masks and reliquary guardian figures and heads (Bieri). The carving on this door imitates the proportions and feel of Bieri figures and heads.






The exhibition concludes with a fine selection of Dogon abstract and figural doorlocks.
Although not doors, these Eket shutters from Nigeria share the form.

GO TO AFRICAN DOORS PAGE
GO TO AFRICAN DOORLOCKS PAGE
GO TO ARTIFACTS PAGE