Art of the Ashanti
Feb. 4-Mar. 29, 1997

This page is a record of an exhibit that took place
in 1997. The individual links below will take you to
the CURRENT VERSION of the pages
that formed part of that exhibit.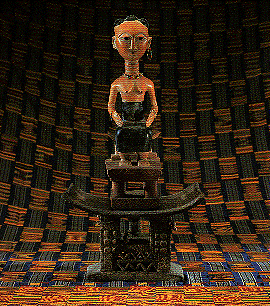 "Art of the Ashanti" shows a wide range of traditional work of the Ashanti (or Asante) kingdom in Ghana, celebrating many forms of their aesthetic expression and indicators of wealth and status.

Trade in gold made the still-thriving Ashanti kingdom the most powerful of the Akan-speaking people. Small brass goldweights of figures or animals, cast by the lost wax process, were used to weigh the gold dust, which was then stored in small boxes with fitted lids, decorated abstractly with a wax-thread technique. We have examples of weights and boxes in our display cases.

Ashanti ceremonial stools, which brought status to their owners and are symbolic of royal and court power, take many forms, abstract or proverbial, and we have many excellent examples. We are also showing one asipin (armless) and one akonkromfi (with arms) highly decorated, brass studded chairs displayed and carried on important public occasions to show a prince's status. Four linquist's staffs, okyeame poma, emblems of office for one who speaks on behalf of the king, use images from sayings or proverbs.

Female shrine figures sit regally, expressing ideal dignity and pride. Some are maternity figures, connoting women's role in procreation and nurturing. Then there are many akua'ba fertility dolls, the round-headed ankh-like symbols of fertility and ideal beauty, used by Ashanti women to ensure healthy and beautiful children. several neighboring Fanti dolls provide contrast with rectangular heads.

We have an exceptional collection of Akan fired clay memorial heads, idealized and simply modelled, showing attention to stylized coiffures. Placed in sacred groves to honor and serve ancestors, they were made by women.

In textiles, we have many of the well-known kente, intricately hand woven and assembled colorful dress wrapping cloths, the crowning glory of African weaving. Appliqued asafo flags of the neighboring Fanti speak also to the history and visual impact all of the above and other work shows. We are glad to share these wonderful traditions with you.

The Ashanti Show
is open Feb. 4 - Mar. 29. We will be removing the Janiform Images show and installing the new exhibit on Mon. and Tues., Feb. 3 - 4; feel free to stop by and be first to see everything. To celebrate the new show and welcome you, we are having an Opening Party Sat. Feb. 8, from 12-4, and a MidShow Reception, Sat. Mar. 8, from 12-4. Coming next: Man on Horseback, April 2 - May 31.
GO TO ASANTE KENTE TEXTILES
GO TO ASANTE ART PAGE
GO TO ASANTE SMALL STOOLS PAGE
GO TO ASANTE ANIMAL STOOLS PAGE
GO TO AFRICAN TEXTILES PAGE