AFRICAN TEXTILES
Sorry, this page of our website may not be up to date. The most updated page
to see what is available is the INDEX by TRIBE

page.



Most of these objects were originally described as if authentic. Most were not. Those objects that have been vetted as authentic by outside experts (Christophe Rolley, Edith Mbella, Daniel Mato, Rand Ningali, Phil Warish and Ethan Rider) are labelled as such. Objects made for the market are labelled accordingly, and objects in our archives or on pages no longer on our website should be assumed to be inauthentic if not otherwise labelled.



EWE TEXTILES
(LARGE SIZE)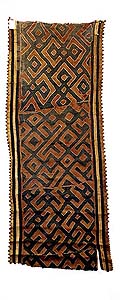 KUBA
Raffia Skirts
---
The textiles types below have all been sold and are left here for reference and educational purposes.
If you are looking for a particular tribe or object please check our alphabetical list of images and catalogs.
GO TO AFRICAN ANIMALS PAGE
GO TO AFRICAN BIRDS PAGE
GO TO ARTIFACTS PAGE
GO TO AFRICAN FIGURES PAGE
GO TO AFRICAN BEADWORK PAGE
GO TO MASKS AND HEADS PAGE
GO TO AFRICAN METALWORK PAGE
GO TO NEW ADDITIONS PAGE
GO TO AFRICAN STOOLS PAGE