This page is a record of an exhibit that took place
in 1994. The individual links below will take you to
the CURRENT VERSION of the pages
that formed part of that exhibit.

AFRICAN BOXES & VESSELS
OCT. 4- NOV. 30, 1994
African Boxes & Vessels is an exhibit of utilitarian objects from many African peoples that show creativity and careful execution usually reserved for sculpture of ritual or religious importance. The exhibited works have strong aesthetic qualities despite their functional intention and use. Some, with complex elaboration of form or intricate surface decoration, indicate they also served ceremonial purposes or brought status and prestige to the owner.

Among the groupings are collections of objects from many of the major tribal cultures of Africa. The Yoruba of Nigeria are represented with covered divination bowls, several forms of offering bowl figures and beaded flat bags. The Dogon of Mali embellish all their containers, including horizontal boxes, troughs and vertical food bowls, with figuration and sacred images. The Fang of Gabon protect their reliquary boxes with seated guardian figures. Although most of our Kuba boxes from Zaire include a face, the intricate geometric patterns mirror the change to the more abstract pieces in the show. There are Dan, Kuba and Yoruba bowls, Nupe and Jenne fired clay vessels, Ethiopian guord containers and much more.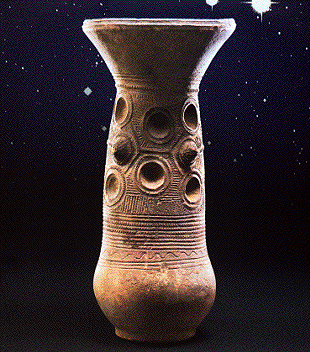 NUPE, CLAY VESSEL, Nigeria
Photograph© John Urban
GO TO AFRICAN VESSELS
GO TO BOXES/BASKETS PAGE
GO TO AFRICAN CONTAINERS
GO TO GOURDS PAGE
GO TO AFRICAN DRUMS PAGE
GO TO ARTIFACTS PAGE
GO TO AFRICAN BEADWORK PAGE
GO TO NEW ADDITIONS PAGE