AFRICAN DRUMS
IGBO, Slit Drum 4
20.5" high
SOLD

KUBA
Drums
Page



Djembe
Drums 5-9






SENUFO, Drum 4
35" high, $1500




Most of these objects were originally described as if authentic. Most were not. Those objects that have been vetted as authentic by outside experts (Christophe Rolley, Edith Mbella, Daniel Mato, Rand Ningali, Phil Warish and Ethan Rider) are labelled as such. Objects made for the market are labelled accordingly, and objects in our archives or on pages no longer on our website should be assumed to be inauthentic if not otherwise labelled.



Also see other AFRICAN MUSICAL INSTRUMENTS
The drums below have been sold and are left here for reference and educational purposes.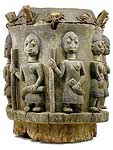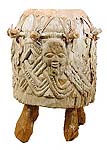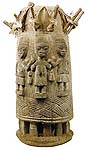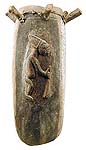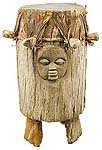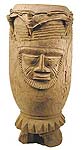 YORUBA
Drums
ALL SOLD


Photographs © Hamill Gallery
DRUMS
African drums were musical instruments, ceremonial objects and means of communication. The large exhibit focuses on the traditional drums of the Yoruba, Senufo, Kuba, Chokwe, Bamileke, Igbo and other peoples, plus slit drums of the Yaka, Dan and Yangere. Other instruments, such as gongs, horns, kora, harps and mbira (thumb pianos) are also included. Most of the exhibit is visual; many pieces are not capable of being played, but some are. We also have contemporary jembe drums, talking drums and balliphones all intended for play. The drums range from everyday objects with monumental, simple forms to ornate pieces bringing status to the owner, connoting power and the honoring of ancestors. They all show the creativity and power Africans put into functional objects.
GO TO AFRICAN MUSICAL INSTRUMENTS
GO TO AFRICAN DRUMS 2001 EXHIBITION PAGE
GO TO ARTIFACTS PAGE
GO TO NEW ADDITIONS PAGE
GO TO AFRICAN ANIMALS PAGE
GO TO AFRICAN BIRDS PAGE
GO TO AFRICAN FIGURES PAGE
GO TO AFRICAN BEADWORK PAGE
GO TO MASKS AND HEADS PAGE
GO TO AFRICAN METALWORK PAGE
GO TO AFRICAN STOOLS PAGE
GO TO AFRICAN TEXTILES PAGE