This page is a record of an exhibit that took place
in 1993. The individual links below will take you to
the CURRENT VERSION of the pages
that formed part of that exhibit.

EKOI / EJAGHAM HEADS
JUNE 5 - JULY 31, 1993
Our Ekoi / Ejagham Heads exhibition opened with works of unparalleled emotional intensity. The heads are remarkable skin-covered pieces from the Cross River region of Nigeria and Cameroon. The strikingly, even agressively realistic heads replace the enemy head trophies that were banned early this century. Controlled by powerful associations, most are attached to basketry caps, worn as headdresses, and were danced at initiation rituals, important funerals and secular celebrations.

The show includes face masks, two-faced hemet masks and the Ikem headdresses, with their large, elaborate, hornlike coiffures. The Janus heads express the concept of duality; light / dark, female / male, day / night, good / evil. A few related pieces from neighboring groups complete the show. Throughout the sculptures, large and small, there is a naturalism and expressiveness unique in traditional African art.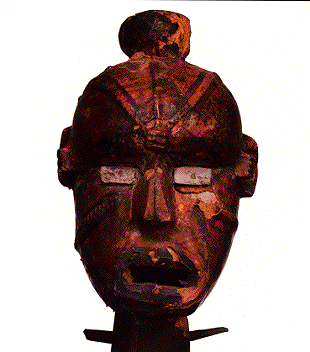 EKOI / EJAGHAM, Headdress, Nigeria
Photograph © John Urban
GO TO EJAGHAM / EKOI ART PAGE
GO TO SKIN EXHIBITION PAGE
GO TO EJAGHAM ( EKOI ) JANUS HEADS PAGE
GO TO EJAGHAM ( EKOI ) HEADDRESSES PAGE
GO TO EJAGHAM ( EKOI ) JANUS HEADDRESSES PAGE
GO TO EJAGHAM ( EKOI ) ANIMAL HEADDRESSES PAGE
GO TO AFRICAN FIGURES PAGE
GO TO MASKS AND HEADS PAGE