This page is a record of an exhibit that took place
in 1992. The individual links below will take you to
the CURRENT VERSION of the pages
that formed part of that exhibit.

MOTHER AND CHILD
DEC. 2, 1991 - JAN. 29. 1992
With fifty pieces from fifteen tribes, we present the maternity theme in depth, with a diversity in size, symbolism, intimacy and style. Most depict the ideals of beauty, fertility, character and action and many signify much more, whether the primordial mother or a legendary founding ancestor. Commonly used as shrine figures, they were often objects of petitions or prayers for fertility and successful births. The prevelance of the maternity theme testifies to the importance of women and children to the continuity of each people.

Among the traditional maternity pieces from the Yoruba of Nigeria are two large Epa masks, some Shango wands and diviner bowls. The Bamana are represented both by human figures and the mythological Chi-wara, depicting an antelope mother and child. The most naturalistic are those of the Pende (on poster) and the refined, elegant Baule figures. The serenely powerful Bakongo sculptures and the stylized Ashanti seated figures add a balance to the more expressive masks and figures of the Yaka. Less common maternity figures from the Dogon, Senufo, Dan, Bamileke, Ogoni, Benalua, Chokwe and Eket complete the exhibit.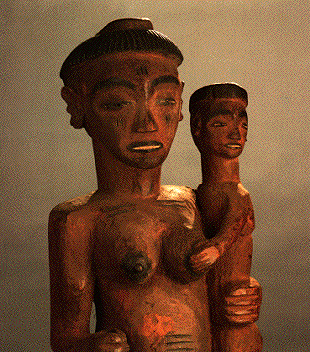 PENDE, MATERNITY FIGURE, Zaire
Photograph © John Urban
GO TO MATERNITY FIGURES PAGE
GO TO FAMILY MATTERS EXHIBITION PAGE
GO TO AFRICAN FIGURES PAGE