This page is a record of an exhibit that took place
in 1999. The individual links below will take you to
the CURRENT VERSION of the pages
that formed part of that exhibit.
ART of the NUPE EXHIBITION
Feb. 4 - March 31, 1999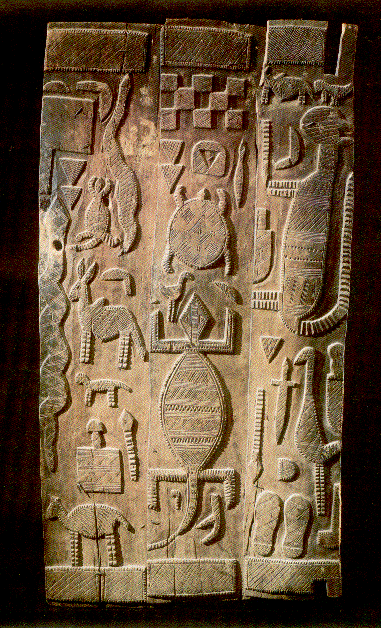 NUPE, Door, 69", Nigeria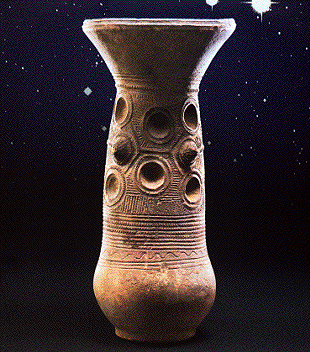 NUPE, CLAY VESSEL, Nigeria © John Urban

Art of the Nupe shows wide selections of the doors, posts, pots and stools of the Nupe people of Nigeria. Most Nupe are Moslem, which partially explains the lack of masks and figures. Only some animal images on their doors and a few pots depart from a largely abstract sensibility.

Nupe doors, beautifully embellished with low to deep reliefs of animals, objects and symbols are made of joined plank-like panels. They probably communicated messages, invoked spirits or gods and brought status to their owners. We have a rich and varied group.

Nupe pots are among the finest terra-cotta works in Africa. All have highly decorated surfaces and are formed by women potters. Our very large collection includes many of the convex- based vessels used for transporting and storage of water, here exhibited on the woven raffia head carrying rings. There are also elegant tall flaring pieces (see above) used as vessel stands and some of th guord-shaped double containers with brass fittings.

Nupe posts were architectural supports and many of ours are massive and impressively carved. Smaller examples are simpler but wonderfully Brancusi-like in their powerful abstractions.

Nupe stools, finally, are distinctively incised on the top surface with symmetrical or radial patterns. The rectangular forms often have designed sides, the circular forms have 8-10 legs. All served the purpose of honoring the owner or user with status. Some textiles and wooden vessels complete the show.

Art of the Nupe is open Feb. 4 - 13, the Saturdays of Feb. 20 and 27, and Mar. 6 - 31, 1999. We will be installing on Tues.and Weds., Feb. 2 - 3; feel free to stop by. To celebrate the show and welcome you, we are having an Opening Party Sat. Feb. 6, from 12-4. Coming in April - May: "African Beadwork".
GO TO NUPE SCULPTURE PAGE