NUPE TERRACOTTA POTS ARCHIVES, Nigeria
The Nupe pots below have been sold and are left here for reference and educational purposes.
GO TO NUPE STOOLS ARCHIVES PAGE (ALL SOLD)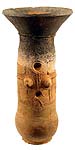 Photographs © Hamill Gallery
NUPE, TERRACOTTA VESSELS, Nigeria
These Nupe pots have been vetted as authentic, with signs of age and use.
These functional pots, always embellished with carefully executed surface patterns, were stacked on half-buried vessel supports when not in use. Whole walls of terracotta vessels often lined the inside of Nupe houses. Some of these of these show evidence of being repeatedly stacked, with subtle damage or wear around the inside of the lip or rim, or on the outside on the bottom. Several have encrusted surfaces and some are darkened with smoke from cooking and fires kept in the home.
The bases are all rounded so the raffia rings, similar to what would aid in carrying filled vessels on the head, are included.
Pots 14-17, in addition to bands of geometric designs, have nicely inlaid animal images, probably lizards or crocodiles (see details above).
GO TO HOLDING PATTERNS EXHIBITION PAGE
GO TO AFRICAN POTS PAGE
GO TO AFRICAN VESSELS PAGE
GO TO NUPE VESSELS PAGE
GO TO NUPE VESSEL SUPPORT PAGE
GO TO NUPE STOOLS ARCHIVES PAGE (ALL SOLD)
GO TO NUPE POSTS PAGE
GO TO NUPE DOORS PAGE