NUPE VESSELS ARCHIVES, Nigeria
The Nupe Vessels below have been sold and are left here for reference and educational purposes.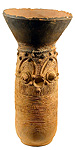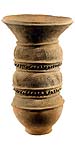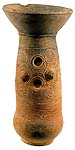 Nupe
Pot Supports
ALL SOLD



Photographs © Tim Hamill
NUPE, VESSELS, Nigeria
Most Nupe are Muslim and their art is therefore abstract.
These functional pots, always embellished with carefully executed surface patterns, were stacked on half-buried vessel supports when not in use. Whole walls of terracotta vessels often lined the inside of Nupe houses. Some of these of these show evidence of being repeatedly stacked, with subtle damage or ear around the inside of the lip or rim, or on the outside on the bottom. Several have encrusted surfaces and some are darkened with smoke from cooking and fires kept in the home.
The gourds are old and well aged; some are painted, some have incised designs. The reverse sides are all comparable to the view seen.
GO TO NUPE ART PAGE
GO TO HOLDING PATTERNS EXHIBITION PAGE
GO TO AFRICAN POTS PAGE
GO TO AFRICAN VESSELS PAGE
GO TO NUPE GOURDS PAGE
GO TO NUPE STOOLS PAGE
GO TO NUPE POSTS PAGE
GO TO NUPE DOORS PAGE