This page is a record of an exhibit that took place
in 1996. The individual links below will take you to
the CURRENT VERSION of the pages
that formed part of that exhibit.



AFRICAN TEXTILES
JUNE 5 - 29 and JULY 8 - 31, 1996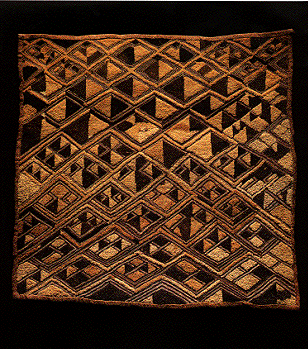 KUBA, Shoowa Textile, 23", Zaire
Photograph © John Urban
"African Textiles" celebrates the many forms of traditional cloth of tribal Africa. Throughout the exhibition it is evident the high esteem Africans held for textiles as aesthetic expression and indicators of wealth and status. Patterns, rhythms and color adorn an amazing range of works. What follows is only a brief introduction to the show.

Beginning the range of groups of textiles are the relatively primitive, abstract paintings on bark cloth made by the Mbuti pygmy. More complex are the famous bogolanfini, the mud-dyed strip-woven cloth of the Bamana people of Mali. Other dyed works include Yoruba adire elako, which used starch as a painted design resist, adire oniko, which used raffia stiching to create unique patterning, ikat, with threads tied and dyed before weaving and tie-dye elements in Kuba works.

Patchwork and appliqued textiles abound, with selections of Asafo flags of the Fon, long Kuba Ngeende dance dresses and full Yoruba Egungun costumes. Embroidered works highlight traditional Hausa robes and Yoruba Ashoke cloth from Nigeria and the wonderfully varied Shoowa "cut-pile" or "Kasai velvet" textiles of the Kuba of Zaire.

Intricate weaving of patterns and the artistic balancing of the assembled seperate strips create rhythmic designs in the powerfully beautiful and deservedly much admired Kente of the Ashanti people of Ghana.. Never viewed as a minor craft form, these hand-made textiles of Africa were worn or displayed with pride and respect for those that made them. We share those feelings in presenting this exhibition.


KUBA, SHOOWA TEXTILE, Zaire

These raffia cut-pile cloths, woven by men, were embroidered by women with no stitching visible on the back. Highly prized for their inventive patterns, they are further embellished with tight tufting, leading to the nickname "Kasai velvet". They were sewn together for ceremonial dress, covered royal stools, and even exchanged as currency. As a sign of status they were buried with kings or those fortunate enough to own many.


ASHANTI, KENTE CLOTH, Ghana

Woven in narrow warp strips of silk, this textile begins and ends with a "head" of five design blocks. The name for each Kente pattern is derived from the warp striping, though the designs in the weft are also significant and have names. The wearing of Kente was once the prerogative of the king and high-ranking chiefs, but today it can be worn by other Ashanti on formal occasions.


BAMANA, MUDCLOTH, Mali

Called bogolanfini, this strip-woven cotton textile is assembled, then dyed with river mud and resists to create designs that are both decorative and symbolic.


HAUSA, MAN'S ROBE, No. Nigeria

Created from strip-woven cotton cloth, this piece was joined, then embroidered in the traditional "eight knives" pattern and several other elements including the numerous eyelets called
"a thousand ant holes". This garment would have been used for special occasions.

KUBA, NGEENDE DANCE DRESS, Zaire

The appliqued "patches" originally repaired holes, then developed into traditional design motifs. Made from raffia, the long cloth, many 16-20 feet long, were wrapped around many times and worn as a skirt or dress.


YORUBA, ASHOKE TEXTILE, Nigeria

Woven in narrow strips of machine-spun cotton, this textile has sections of openwork, with the holes linked by decorative, carry-over threads. Motifs laid in by weft patterns are usually symbolic of stylized plants or Koran boards.


YORUBA, ADIRE CLOTH, Nigeria

A resist-dyed cotton cloth, this piece was gathered, then stiched with raffia thread around the folds before being dyed in indigo.


YORUBA, ADIRE CLOTH, Nigeria

A resist-dyed cotton cloth, this piece was painted freehand with starch before being dyed in indigo.
GO TO TEXTILES PAGE
GO TO ARTIFACTS PAGE
GO TO AFRICAN BEADWORK PAGE
GO TO NEW ADDITIONS PAGE