FANG STYLE SLIT DRUM 1, Gabon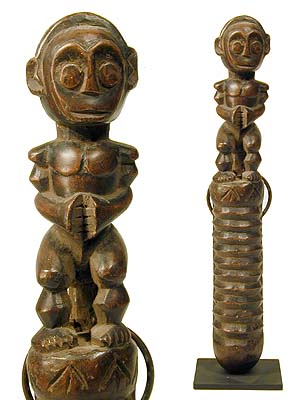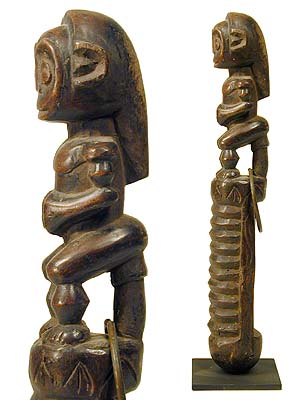 Photographs © Tim Hamill
FANG, SLIT DRUM / RASP 1, 14", $300, SOLD
Drums are among the most important art forms in Africa, used both as a musical instrument and as a work of sculpture significant in many ceremonial functions, including dance, rituals, story-telling and communication of messages.
Slit drums, with hollow chambers and long narrow openings that resonate when struck, often take a human or animal form in which the drum becomes the body. In this Fang piece, the figure, similar to a reliquary guardian, sits on top of the slit gong area. It also includes a serrated area, which, when played, would be rubbed with a stick.
Despite its appearance, this object was probably made to be sold.
GO TO AFRICAN DRUM EXHIBIT PAGE