FANTE ASAFO FLAG 24, Ghana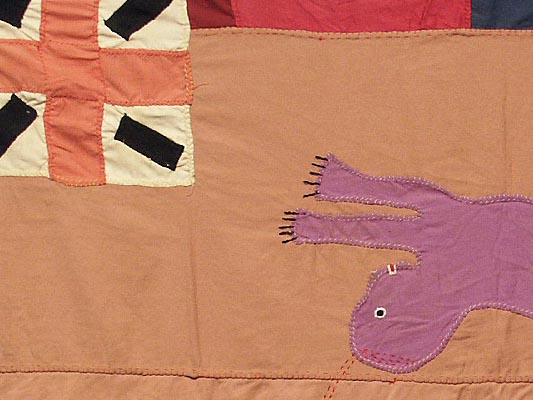 Photographs © Tim Hamill
FANTE, Asafo Flag 24
38x46", $600
SOLD
Asofo means"war people".
These appliqued patchwork banners combine the tradition of communication by proverb with military pomp and display. Flags were created for the installation of a new captain of a local militia company and would be displayed at festivals and funerals. Each unique flag depicted an historical event, or identified the company with an animal or image of power, or depicted a proverb to boast, taunt or threaten other companies. The same image shows on the reverse side through a cut-out in the flag rather than as an appliqued design.
The British flag (note the variety of interpretations) was used as part of the design until 1957. Since independence, the flag of Ghana is often substituted.
RETURN TO FANTE ASAFO FLAGS PAGE 2 (21-42)
GO TO FANTE ASAFO FLAGS PAGE 1 (1-14) ALL SOLD
[RETURN TO HOME PAGE] [CONTACT GALLERY] [ORDERING] [HYPERLINKS]