FANTE ASAFO FLAG 44, Ghana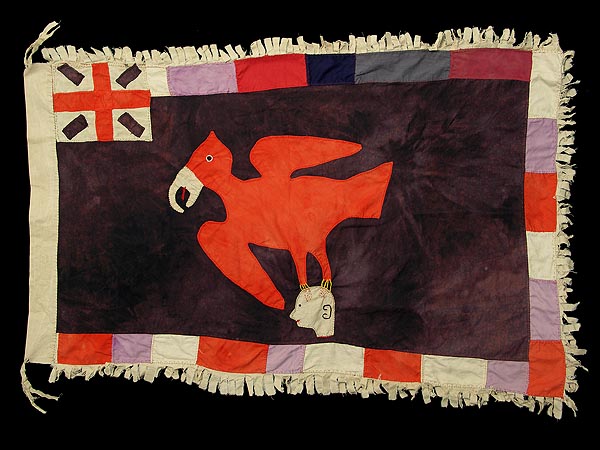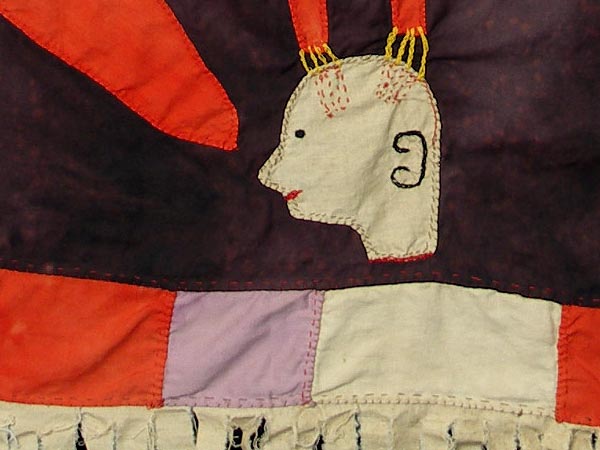 Photographs © Tim Hamill
FANTE
Asafo Flag 44
35"h x 51"w
$600
SOLD

Despite its appearance this flag shows no real evidence of age or use and could have been made to be sold. Newer flags made to be sold usually use an image of the British Union Jack rather than the post 1957 Ghanaian flag. The reverse side can be appliqued with the same image, or the image can show through on the reverse side through a cut-out in the flag rather than as an appliqued design.
On this flag the same image shows on the reverse side through a cut-out in the flag rather than as an appliqued design.
For a wonderful article concerning Asafo Flags published in
AFRICAN ARTS Magazine, Winter 2002
please click on the link below:
ASAFO FLAGS
Among the Fante people of coastal Ghana military companies known as Asafo, began in the past as groups to which men and in some instances women could belong. Most Fante coastal towns had at least one company and larger towns up to ten or fourteen leading to rivalries and conflicts. These companies were politically engaged in the selection of chiefs and identified religiously to their particular military shrine (pousban) that served as a gathering place and centers of activity for these Asafo companies. Each local company is identified by a particular name and number and through a set of symbols displayed prominently on their flags. Commenting upon Asafo flags (frankaa) in the late 17th century Europeans noted the distinct imagery of the flags. These motifs served to identify the Asafo company by giving visual form to the creed by which it wished to be known. Verbal proverbs are given imaginative visual forms by different colored cutout figures appliquéd upon cotton square approximately a meter by a meter and a half in size onto cotton cloth that was generally produced in European weaving mills. The edges were often cut to produce a serrated edge that was decorative and lively. Asafo flags have a rough system that can be used to define the date of origin with the British ensign often featured on flags before Ghana achieved independence in 1957. Therefore Asafo flags with the Ghanaian ensign in one of the corners indicate that the flag was put together post-independence and thereby after 1957.
---Dan Mato, Professor Emeritus of Art History, The University of Calgary
RETURN TO FANTE ASAFO FLAGS PAGE 3
GO TO FANTE ASAFO FLAGS ARCHIVES PAGE (ALL SOLD)
GO TO AFRICAN TEXTILES PAGE