FON FETISHES
The fetishes below have been vetted as being authentic with signs of use and age.
---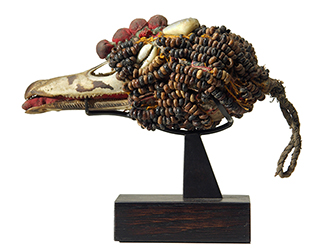 FON
Fetish 37
4.75" high x 4.75" long
SOLD
Ex: Galerie Accrosonge, Paris, 2008
---
FON STYLE FETISHES
Despite their appearance and patina, the objects below show no evidence of age or use and were probably made to be sold.

Photographs © Hamill Gallery
FON, Fetishes, Republic of Benin
The Fon fetishes are believed to have powers to protect the owner and his family from misfortune and evil spirits. They are often used on altars and annointed with sacrifices.
GO TO FON BOCCIO POST PAGE
GO TO FON COUPLES ARCHIVES PAGE (ALL SOLD)
GO TO FON SHIELDS PAGE
GO TO FON IRON FIGURES PAGE
GO TO FON ASEN STAFFS PAGE
GO TO FETISH! EXHIBITION PAGE
GO TO AFRICAN FETISHES PAGE
GO TO FETISHES (VARIOUS TRIBES) PAGE
GO TO AFRICAN FIGURES PAGE