IBIBIO EKON PUPPET FIGURE 12, Nigeria
This Ibibio puppet figure has been vetted as being authentic.
---





Photographs © Hamill Gallery
IBIBIO
EKON PUPPET FIGURE 12
37" high x 12" wide x 8" deep
Nigeria
$1500
This impressive puppet retains some functional features. The arms move on nail pins and could be locked in any position with small wedges. The jaw is attached to the head with short rubber strips and is partially covered with glued-on cloth. The jaw is moved up, down and sidewards by a rod that goes inside the body down to the ring visible below the left foot. Both breasts are attached (there are lines visible around the breasts in the above photos, but the cause is not clear).
A thick wood pole/handle used to hold the puppet extends down from the base and fits securely in the metal sleeve of the custom base (included).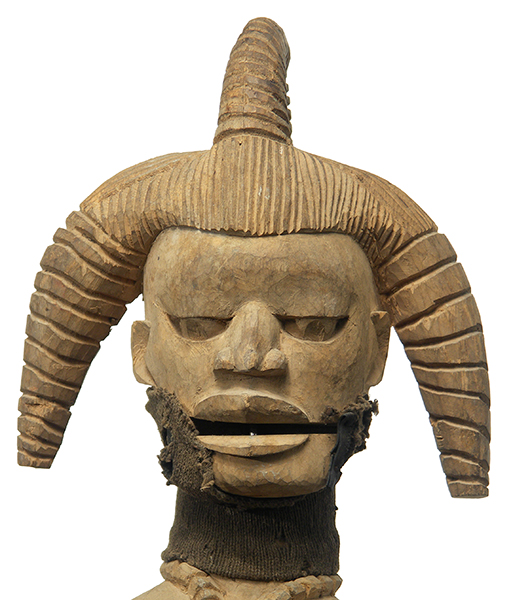 GO TO IBIBIO EKON PUPPET FIGURES PAGE
GO TO BAMANA PUPPETS PAGE
GO TO BAMANA ANIMAL PUPPETS PAGE
GO TO AFRICAN FIGURES PAGE
GO TO NEW ADDITIONS PAGE