IGBO MAIDEN SPIRIT MASKS ARCHIVES, Nigeria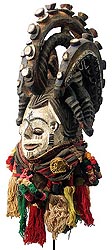 IGBO
Spirit Mask 16
33 " high
SOLD
This wonderful mask, with remnants of its costume, has been vetted as authentic with signs of use.
---

The masks below have been sold. They are left here for educational and reference purposes.
In spite of their appearance, we believe most of the masks below were carved to be sold.
Photographs © Tim Hamill
IGBO MAIDEN SPIRIT MASKS, Nigeria
A common characteristic of Igbo masks is that they are painted white, the color of the spirit.
The best known among them are the so-called Maiden Spirit masks (Agbogho mmwo) which are danced by men at agricultural festivals and funerals of prominent members of the village. Topped by elaborate coiffures, these masks are said to represent the beauty and purity of deceased maidens.

***

Please see as well the incredibly elaborate headdress (pictured below) by clicking on IGBO, Headdress 1
RETURN TO IGBO SPIRIT MASKS PAGE
GO TO MASKED, I ADVANCE EXHIBITION PAGE