KUBA RED APPLIQUED PANELS ARCHIVES
Because of problems with past and future fading and worn or dirty areas, we had decided to not put these panels up for sale.
Since there may be collectors who, like me, are not bothered by wear, damage, fading, etc. we are offering them "as is" at
substantially reduced prices.
These panels have all been SOLD and are left here for educational and research purposes.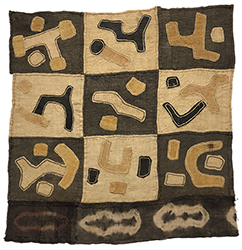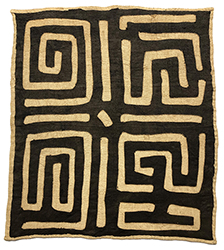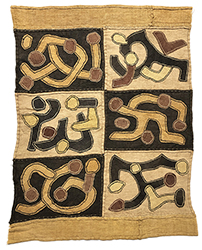 KUBA STYLE APPLIQUED SKIRT PANELS
Photographs © Hamill Gallery
KUBA , NGEENDE DANCE DRESS PANELS, DRC
These embroidered panels are older than our appliqued panels. The red ones, with finer strips of raffia, are soft like cotton or linen from repeated washing and handling. The color, however, is not stable. Most of these have lost some of the deep dark red they had originally. Exposure to light will fade them gradually more until they are almost gray. I have lightened and desaturated the photographs to be as accurate as I can be to their present state.. Note that the color is often uneven and somewhat faded and occasionally dirty. Remember that museums expose their textiles only rarely and under subdued light. They have not been blocked or stretched.
CARE: The cloth is not fragile and can be pinned onto a wall or panel for display, or framed like a work on paper. To eliminate wrinkles, the cloth can be misted with water, and then gently ironed on the back.
The individual pages have details to give a better idea of the cloth up close, as well as focusing on any condition problems
GO TO KUBA STYLE SKIRT PANELS PAGE
KUBA STYLE SKIRT PANELS ARCHIVES PAGE (ALL SOLD)

KUBA TEXTILES PAGE
KUBA SHOOWA TEXTILES PAGE
KUBA LONG PANELS
KUBA SKIRTS PAGE
GO TO AFRICAN TEXTILES PAGE
GO TO KUBA BARKCLOTH TEXTILES PAGE 4