LOBI BELLS 1-3, BURKINA FASO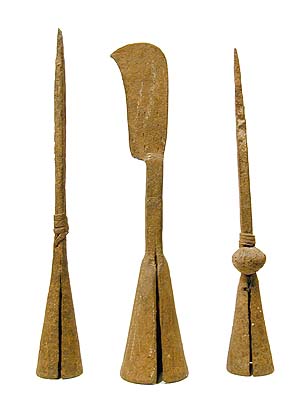 Photographs © Tim Hamill
(left) LOBI, Bel1 1, 13.75" high, $125, SOLD Burkina Faso
(middle) LOBI, Bel1 2, 13.5" high, $125, Burkina Faso
(right) LOBI, Bel1 3, 13" high, $125, Burkina Faso
These bells have been vetted as authentic.
These bells all have working clappers and stand as viewed. The other or back view has no slit.
The Lobi, better known for their wood figures, heads and stools and terracotta vessels, make some objects from iron. These forged animals and bells exhibit the technical skill and artistry that Bamana blacksmiths brought to their work. They would do the smelting to get the iron from iron ore, then heat and hammer out both the tools and weapons used and these ritual objects.
RETURN TO METALWORKS EXHIBITION PAGE
RETURN TO METALWORKS EXHIBITION PAGE 2
GO TO LOBI DAGARI FIGURES PAGE
GO TO LOBI FIGURES ARCHIVES PAGE
GO TO FAMILY MATTERS EXHIBITION PAGE