LUBA STYLE STAFFS ARCHIVES, DRC
Despite their traditional form and appearance, these staffs exhibit little use or age and were probably made to be sold.
The Luba staffs below have been sold and are left here for educational and research purposes.
For UNSOLD Luba Staffs, GO TO LUBA STAFFS PAGE
---




LUBA STYLE
Staff 12
67.5" high
SOLD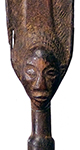 LUBA STYLE
Staff 11
70" high
SOLD
Photographs © Hamill Gallery
LUBA, STAFFS ARCHIVES, DRC
Most Luba art relates to kings and important chiefs, who defined their power by the display of prestige objects during major ceremonies. Elegant staffs of office were among the most important of these.

GO TO LUBA HEADRESTS PAGE
GO TO LUBA AND TABWA STOOLS PAGE