MOSSI YALI MASK 2, Burkina Faso
This mask has been vetted as authentic with signs of use.
---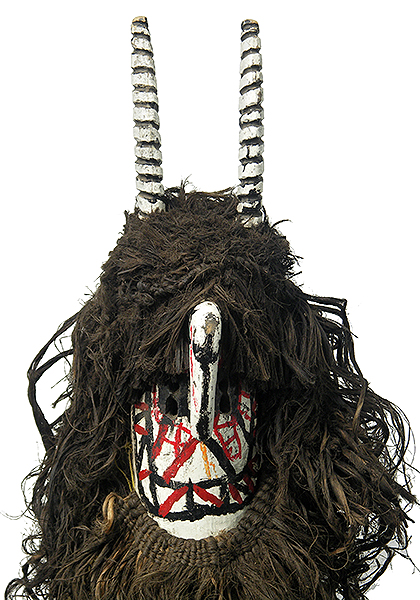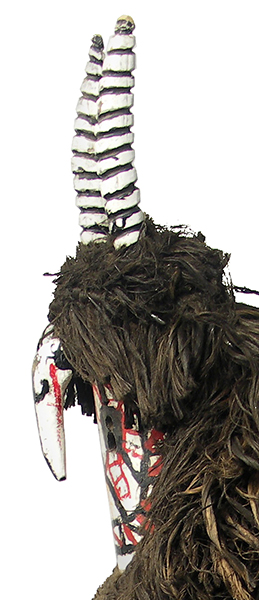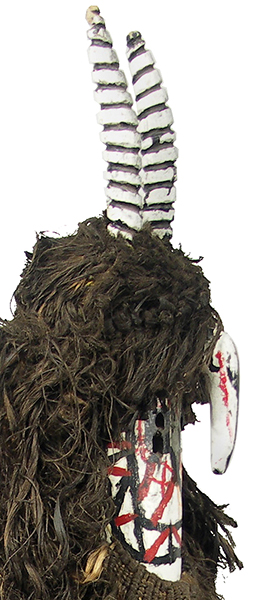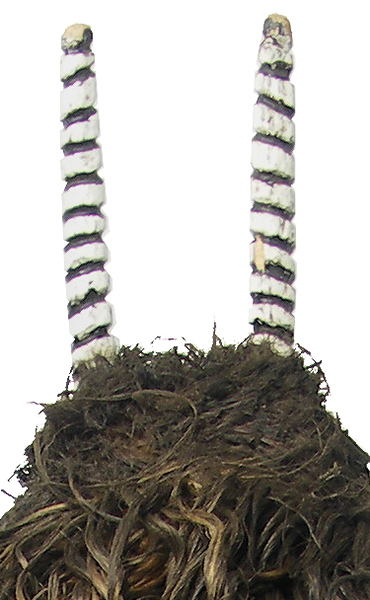 Photographs © Hamill Gallery
MOSSI
YALI MASK 2
26 " high (mask) - 70" high (with costume) x 20" wide x 17" deep
Burkina Faso
$1500
SOLD

The left arm of this costume is loose and was clipped up for the photograph. In the back photo of the two horns, note the small chip missing on the right horn and the wear on the tips.
Yali masks, with two horns, are the most important of these Eastern Mossi forms and the one least encountered. The half cylinder form of the mask is broken by a prominent hooked nose. It represented a dwarf spirit.
---- Website, University of Iowa

GO TO MOSSI WAN-ZEGA MASKS PAGE
GO TO GROTESQUES EXHIBITION PAGE
GO TO MOSSI DOLLS PAGE
GO TO PAINT! EXHIBITION PAGE
GO TO MOSSI HEADS ARCHIVES PAGE (ALL SOLD)
GO TO AFRICAN FIGURES PAGE
GO TO AFRICAN MASKS PAGE
GO TO NEW ADDITIONS PAGE
MJM102716