NAFANA, BEDU MASK 25
Despite its appearance and patina, we believe this mask was probably made to be sold.
---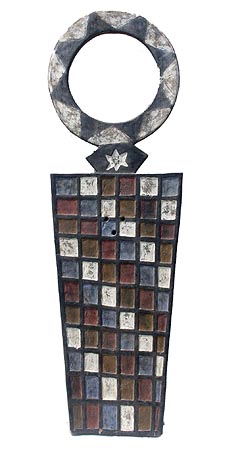 NAFANA, BEDU MASK 25, 79", $700 Ivory Coast, SOLD
These huge polychrome plank masks known as Bedu are danced in ceremonies designed to rid the village of harmful spirits. All have a shallow box-like extension on the back that functions to support the mask on the dancer's head. They are not as heavy as their size would indicate and can therefore be hung on a wall.
GO TO MASKS PAGE

GO TO 1999 MONUMENTAL MASKS EXHIBITION PAGE
GO TO AFRICAN SELECTIONS 5 EXHIBITION PAGE