MONUMENTAL MASKS

This page is a record of an exhibit that took place
in 1999. The individual links below will take you to
the CURRENT VERSION of the pages
that formed part of that exhibit.



Oct. 2 - Nov. 27, 1999
NEW CATALOG ONLINE of this exhibition, Follow links below for images, sizes, prices and more information

Although many smaller African masks have a truly monumental quality and power, this show focuses on the much larger-than-life, out-sized masks, most of which are from different peoples of West Africa.
---

NAFANA BEDU MASKS, Ivory Coast
The largest selection are the tall, flat, painted "Bedu" masks (poster) of the Nafana people of the Ivory Coast. Usually over six feet in height, abstracted, with circular horns on top, they were used in rituals to rid a village of evil forces.
---

BAULE GOLI "KPLEKPLE MASKS, Ivory Coast
Also from the Ivory Coast are the better known, large, flat, horned, but round masks called "Kplekple" from the Baule people. Representing the junior males in the Goli dance celebrations, they are the most abstract of Baule masks.
---

BAGA "NIMBA" MASKS, Guinea
The giant "Nimba", or "great mask" of the Baga people of Guinea is a very 3-D headdress often weighing 80 lbs, carried on the shoulders. It was a huge earth goddess that towered over agricultural ceremonies.
---
BAGA/NALU "BANDA" HEADDRESS, Guinea
Neighboring Nalu people used an equally impressive, more horizontal headdress, "Banda", in similar harvest dances.
---

BOZO ANTELOPE MASKS, Mali
From Mali, we have a group of Bozo antelope masks, assembled and colorfully adorned with metal, cloth and paint.
---

BWA, PLANK MASKS, Burkina Faso
Geometric vertical plank masks of the Bwa, from Burkina Faso.
---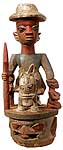 YORUBA, EPA HEADDRESSES, Nigeria
Several Yoruba "Epa" headdresses, with elaborate superstructures, from Nigeria
---

FANG "NGIL" MASKS, Gabon
Ghostly white Fang "Ngil" masks from Gabon complete the show.

---

Because of the scale of these works we have added extra exhibition space on the first floor.
Monumental Masks is open October 2 - November 27, 1999. To celebrate the new show and welcome you, we are having an Opening Party Sat. Oct. 9, from 12-4.

The Gallery

at 2164 Washington St. is open Weds-Sat. 12-6. The entrance and free parking lot (enclosed) are in back, the front is closed. Please call if you need exact directions. We are near Mass. Ave. and exit 18 off 93 (S. E. Expressway). Large selections of works from past and future gallery shows can be seen by appointment in our warehouse above the gallery and at our showhouse in Milton, (617) 696-0033. We are in the process of renovating the front of our building and expanding the gallery so I will be very busy the next two months. Molly Martin, who does most of our work with schools and groups visiting the gallery has also been a tremendous help during changes of shows and will continue to be in on Saturdays.

Online

I now have a digital camera, so we can do much more on our site http://www.tiac.net/users/thamill We will attempt to catalog most of our shows, documenting them for people unable to reach the gallery. Bookmark us for updates. Our E-mail address is thamill@tiac.net Please also note that we already have some items for sale at a more technologically-advanced friend's site http://www.africancrafts.com which is linked to and from our site.

The poster for Monumental Masks is my first with a digital camera, and my first attempt using Photoshop on the computer. Hopefully, this will all get easier, more successful and on time. I would be glad to hear your comments and suggestions.

Tim Hamill, Director