YORUBA EPA HEADDRESSES
All of our Epa Headdresses are SOLD but are left online for educational pand research purposes.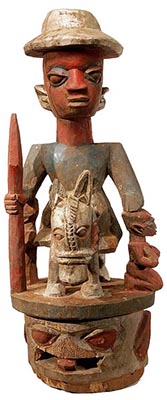 Yoruba
Epa 20
38" high
$3000
SOLD
The Epa headdress above has been vetted as authentic.
Photographs © Hamill Galler
YORUBA, EPA HEADDRESSES, Nigeria
The works from the Epa association honor deities and cultural heroes at masked festivals. The large base heads, of deceased ancestors, are treated with less naturalism than the superstructure, which depicts and honors mothers with children, warrior/hunters, animals and rulers with their entourages in impressive sculptural form.
GO TO YORUBA EPA MASKS ARCHIVES PAGE (ALL SOLD)
GO TO YORUBA ART PAGE
GO TO YORUBA EXHIBITION PAGE
GO TO DIVINATION OBJECTS PAGE
GO TO AFRICAN FIGURES PAGE
GO TO AFRICAN ARTIFACTS PAGE
GO TO MASKS PAGE
GO TO NEW ADDITIONS PAGE