NGATA STYLE FIGURE 11, DRC
Despite its appearance, this figure was probably made to be sold.
---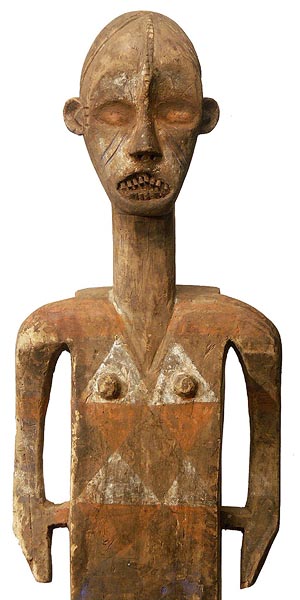 Photographs © Hamill Gallery
NGATA
FIGURE 11
60" high
DRC
$1500
SOLD
All sculpture made among the Ngata is related to their elaborate funerary rituals. Best known are the wooden anthropomorphic polychromed coffins, which exist in both male and female forms. Reports about their use conflict, but what is certain is that they were carved in secrecy at a sacred clearing in the forest called Efomba by a ritual specialist woodcarver, bobongo, and the coffin is called bonganga-nganga. These anthropomorphic figures were put on the tombs of important people, in a small house built solely for that purpose.
GO TO GROTESQUES EXHIBITION PAGE

GO TO NEXT! EXHIBITION PAGE
GO TO RELIQUARY GUARDIANS PAGE
GO TO AFRICAN FIGURES PAGE
MJM110416