NUPE DOOR 8, Nigeria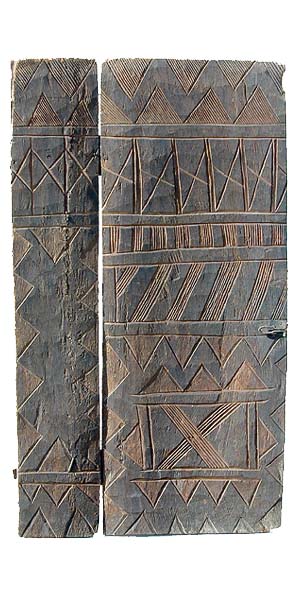 Photographs © Tim Hamill
NUPE, DOOR 8, 28", SOLD, Nigeria
This Nupe doorhas been vetted as being authentic with signs of use and age.
Nupe doors, from Nigeria, are embellished with reliefs of animals, objects and symbols. Made of joined plank-like panels, they probably communicated messages, invoked spirits or gods and brought status to their owners. Most of the doors are hung as wall pieces, but could be mounted on bases as sculptures. The backs are usually plain and those views are not shown unless it is critical to the piece. All were photographed in direct sunlight, which worked well for some and not for others. Many of the larger pieces are difficult or expensive to ship. Most other Nupe art is abstract.
This is the only small nupe door we have.
RETURN TO NUPE DOORS PAGE
GO TO AFRICAN DOORS PAGE
GO TO AFRICAN DOOR EXHIBITION PAGE
GO TO ARTIFACTS PAGE
GO TO NUPE SCULPTURE PAGE