NUPE LARGE HOUSEPOST 29, Nigeria
This post has been vetted as being from the 19th Century, with significant signs of use and age.
---




Photographs © Hamill Gallery
NUPE
LARGE HOUSEPOST 29
42" high x 7" wide x 6" deep
Nigeria
$1000
Because of the unusual top on this post it may have functioned differently from the others. It has obvious wear and loss of some pieces including the lower part of the post.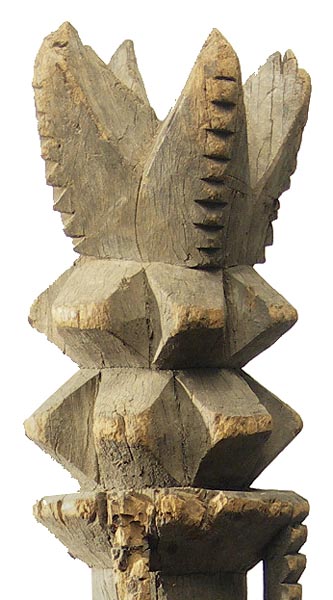 GO TO NUPE LARGE HOUSEPOSTS PAGE
GO TO NUPE SMALL POSTS PAGE
GO TO AFRICAN POSTS PAGE
GO TO HOLDING PATTERNS EXHIBITION PAGE
GO TO NUPE SCULPTURE PAGE
GO TO NUPE STOOLS ARCHIVES PAGE (ALL SOLD)
GO TO NUPE VESSELS PAGE