CHAMBA GONG SET 123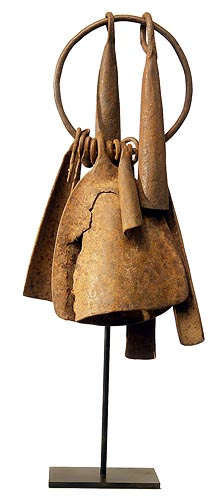 Photographs © Tim Hamill
CHAMBA
Gong Set 123
14.5"
$300
SOLD
These iron forms functioned as gongs but could also have been used as currency. These can be hung on a wall or stand on their own, each time taking a new configuration.
We have some mounted on magnetic stands which also allows for many different positions. The height in inches on those includes the stand as pictured. The number of gongs per set vary from 5.5 to 12.5, with .5 indicating a very small or broken off remnant. This set has 8.5 pieces plus 9 small broken off pieces on the ring.
The price of the stand is included.
BACK TO CHAMBA GONG SET CURRENCY PAGE
GO TO ON DISPLAY METAL PAGE