TUAREG, POST 35, Niger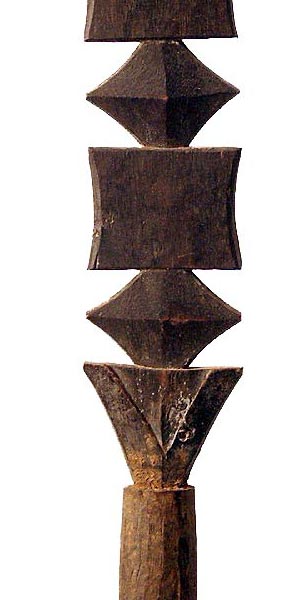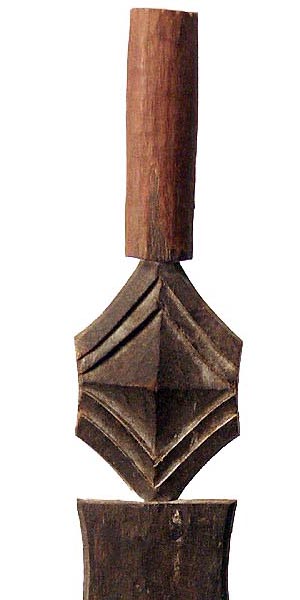 Photographs © Tim Hamill
TUAREG
Post 35
23"h.
$125
SOLD
The Tuareg are fiercely independent nomadic people. On the move with their herds and camels over vast areas of the southern Sahara, they produce no masks or figures but instead create an impressive world of traditional, abstract, beautiful, functional objects of leather, wood and metal.
Wood was carved into posts of many inventive forms, all intricately covered with geometric designs. These seem to be smaller, less elaborate versions of the tuareg Ehel posts, which were erected in each Tuareg family's tent to hold the long "Eseber" mat, which encircled the parent's bed. We are not sure of the function of these posts. The last four (35-38) are smaller, appear newer and were probably never used.
Although the wood is extremely hard, some of the posts have eroded ends, splits, cracks or missing chips. We have photographed them to show the small flaws in the details.
RETURN TO TUAREG POSTS PAGE 2
GO TO GEOMETRIES EXHIBITION PAGE
GO TO TUAREG ART PAGE
GO TO TUAREG EHEL POSTS PAGE
GO TO TUAREG FORKED POSTS PAGE
GO TO TUAREG BOWL SUPPORTS PAGE
GO TO TUAREG POSTS PAGE
GO TO TUAREG JEWELRY PAGE
GO TO TUAREG LOCKS PAGE
GO TO TUAREG VEILWEIGHTS PAGE
GO TO TUAREG LEATHERWORK PAGE
GO TO TUAREG SADDLES PAGE
GO TO TUAREG MATS PAGE
GO TO AFRICAN POSTS PAGE
[RETURN TO HOME PAGE]
[CONTACT GALLERY]
[ORDERING]