ADUMA and ADUMA STYLE ART, Gabon
This Aduma head has been vetted as authentic with signs of tribal use.
---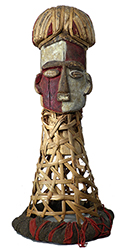 ADUMA
Headdress 1
25" high
$3000
---
While originating from the African continent, these objects are likely not created by the tribe who invented the design. The tribal attribution indicates the origin of the design, not the object.
Photographs © Hamill Gallery
ADUMA and ADUMA STYLE, ART, Gabon
Aduma objects are characterized by their flat surface and domed foreheads. They are often painted in four sections, alternating light and dark..
GO TO ADUMA STYLE MASKS ARCHIVES PAGE (ALL SOLD)
MJM07122018