MAMBILA CURRENCY 36-37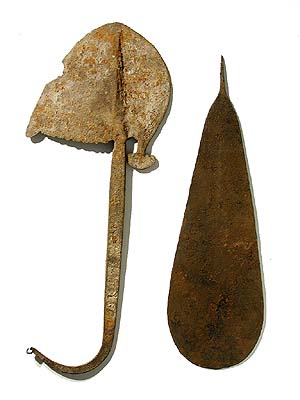 Photographs © Tim Hamill
From left to right.
MAMBILA CURRENCY 36
16.5" high
$250
MAMBILA CURRENCY 37
14.5" high
SOLD
These iron "tools" werw recognized and used as currency. They have been vetted as authentic, from the late 19th - early 20th century.
Additional information on Mambila hoe currenciy 36 with our thanks to:

Dr. Daniel Mato
Professor Emeritus of Art History
The University of Calgary
Calgary, Alberta, Canada
"Asymmetrical flat hoe shape with elongated tang ending in a small loop. This hoe is a commonly recognized form among a number of different people of northern Nigeria into Cameroon and as far as Chad . The hoe also serves as currency for its absolute value as iron and its functional application as a hoe where the tang would be hafted onto a short wooden handle. Known as "Bandaka" in some regions."

RETURN TO MAMBILA CURRENCY PAGE
GO TO CURRENCY PAGE
GO TO CURRENCY EXHIBITION PAGE
GO TO GEOMETRIES EXHIBITION PAGE
GO TO METALWORKS PAGE
GO TO METALWORKS EXHIBITION PAGE