YORUBA "MONEY TREE" CURRENCY 5, Nigeria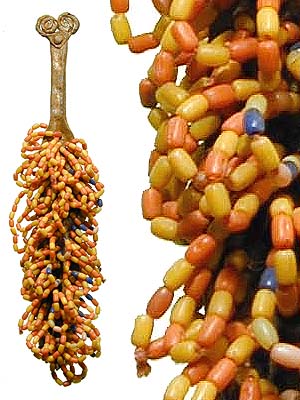 Photographs © Hamill Gallery
YORUBA
"MONEY TREE" CURRENCY 5
16" high
$200
SOLD
This "money-tree" has been vetted as authentic.
These metal forms ( see #9 ) were made to hold a set number of coins, usually from British West Africa, to make an object of tradeable value.This form was recognized and used as currency and could be broken up for smaller transactions. The back has the same number of coins as the front on each "tree".
This unique "tree" is covered with beads, rather than coins, a possible indication that the British coins were to be traded as beads and cowrie shells.
RETURN TO YORUBA CURRENCY PAGE
GO TO YORUBA PAGE
GO TO YORUBA EXHIBITION PAGE
GO TO CURRENCY PAGE
GO TO CURRENCY EXHIBITION PAGE
GO TO GEOMETRIES EXHIBITION PAGE
GO TO METALWORKS PAGE
GO TO METALWORKS EXHIBITION PAGE