DAN STYLE MINIATURE (PASSPORT) MASKS ARCHIVES, Liberia and Ivory Coast
We believe all of these miniature masks are new and made for sale, never used in the traditional way.
The miniature masks below have been sold and are left here for reference and educational purposes.

For UNSOLD Dan miniature masks GO TO STYLE DAN MINIATURE (PASSPORT) MASKS PAGE
---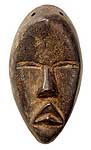 Dan Style
Mini Mask 1
5.25" high
SOLD
---
Photographs © Hamill Gallery
DAN Style MINIATURE (PASSPORT) MASKS, Liberia and Ivory Coast
Several have two small holes on the top to be worn as amulets.The Dan people carried small masks (less than 20 cm high) which are sometimes called "passport" masks. They are sewn onto a piece of cloth and kept in a leather pouch and possibly worn in the small of the back. They are miniature copies of a family mask and sometimes received libations. These apotropaic masks also act as witnesses during initiation ceremonies.

-----From The Tribal Arts of Africa by Jean-Baptiste Bacquart.
Please note the sizes carefully. Photographs of small objects can make them appear much larger than they are.
GO TO DAN ART PAGE
GO TO MASKS OF THE DAN EXHIBITION PAGE
GO TO DAN MASKS PAGE
GO TO DAN MASKS 3 PAGE
GO TO DAN METAL MASKS PAGE
GO TO DAN MASKS WITH HEADDRESSES PAGE
GO TO MASKS PAGE
GO TO NEW ADDITIONS PAGE