DOGON MINIATURE STAFF 24, MALI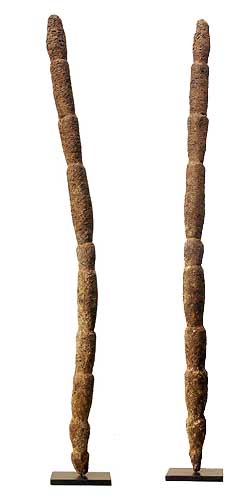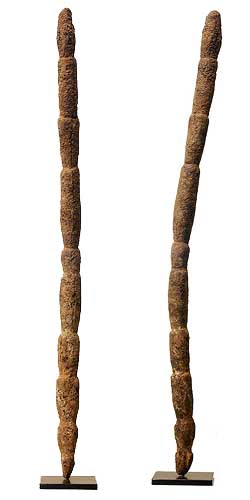 Photographs © Tim Hamill
DOGON, Miniature Staff 24, 20.5" high, $200, SOLD
We are not clear yet on the relationship of these small Dogon staffs to their miniature ladders. They are not ladders but could function in a similar or quite different way.
Dogon ladders have the utilitarian function of enabling people to get to their homes and granaries. While miniature ladders are close replicas of the big ones, they have a purely spiritual purpose. In a secluded part of the house an altar is maintained with various small statues and, most importantly, a small clay jar in which resides the soul of the family's head. The tiny ladder lies against this jar and will serve, upon the decease of its owner, to enable his soul to climb to the hereafter and join his ancestors.
While the big ladders have a surface worn smooth in spots by years of contact with hands and feet, and at the same time a weathered look, the miniature ones are hardly ever handled and are never outside.
from African Forms by Mark Ginzberg.
RETURN TO DOGON MINIATURE STAFFS PAGE
RETURN TO GEOMETRIES EXHIBITION PAGE
GO TO DOGON MINIATURE LADDERS PAGE
RETURN TO ART OF DOGON EXHIBITION PAGE
GO TO FAMILY MATTERS EXHIBITION PAGE
RETURN TO HOME PAGE] [CONTACT GALLERY] [ORDERING] [HYPERLINKS