YORUBA VERANDA POST 2, Nigeria
This Yoruba veranda post has been vetted as authentic, with evidence of some age and use.
---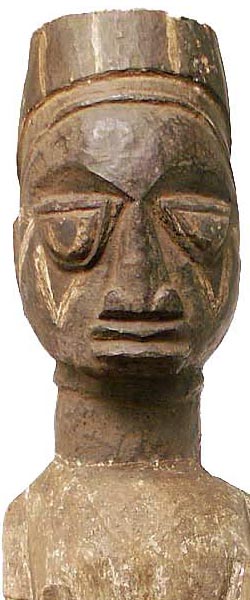 Photographs © Hamill Gallery
YORUBA
VERANDA POST 2
58" high x 12.5" wide x 13.5" deep
Nigeria
$6,000
SOLD
This powerful post depicts a mounted warrior. It appears to be a support post, but was not meant to bear weight. The base is hollowed out and, abetted by erosion, has created a hole on the top. Fortunately, this does not affect the overall strength of the piece.
"While innovative in its formal interpretation, the subject of this work is a classic emblem of regional leadership. In Yoruba art such equestrian figures identify their patrons with martial conquest achieved through physical might. "
---The Metropolitan Museum of Art, NY

GO TO YORUBA VERANDA POSTS PAGE
GO TO FAMILY MATTERS EXHIBITION PAGE
MJM07282017