BIDJOGO HEADS ARCHIVES, Bidjogo Islands
---
The Bidjogo heads below have been sold and are left here for reference and educational purposes.
The Bidjogo head above has been vetted as being authentic.
---
BIDJOGO STYLE HEADS, Bidjogo Islands
Despite their appearance, the heads below are both 20th C. pieces and were probably made to be sold.


---
Photographs © Hamill Gallery
BIDJOGO, HEADS, Bidjogo Islands

Bovine masks are most popularly depicted throughout the Bidjogo ceremonies. Men at the Cabaro stage, about 17-27, show their strength through dance and wear the heaviest costumes and masks. With the background noise of drum beats, shouting from the crowd and kicked-up dust, the dancer portrays the concept of an untamed animal. The idea behind this dance is to show that the man is now physically strong, but has not fully matured enough behaviorally to take on the responsibilities of supporting a family or making decisions for his village.
Information from In the Presence of Spirits, published by the Museum for African Art, New York Snoeck-Ducaju & Zoon, Gent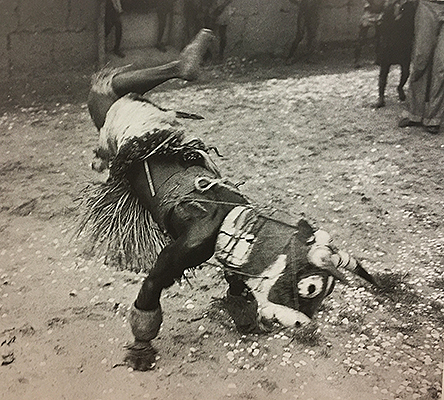 Image by D. Gallois Duquette. From the book In the Presence of Spirits published by the Museum for African Art, New York Snoeck-Ducaju & Zoon, Gent


GO TO BIDJOGO HEADS ARCHIVES PAGE (ALL SOLD)
GO TO A DILEMMA OF HORNS EXHIBITION PAGE
GO TO MONUMENTAL MASKS PAGE
GO TO ANIMALS IN AFRICAN ART PAGE
GO TO AFRICAN MASKS PAGE
MJM02222017