NIGERIAN HOE CURRENCY, Nigeria
The hoe currency below have all been vetted as authentic.
---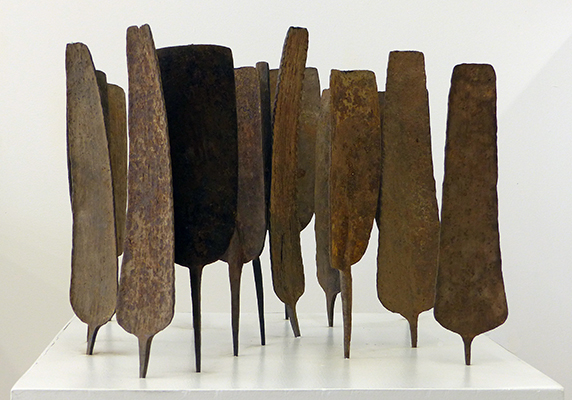 Installation of Nigerian hoe currency in Ka-Ching exhibition, 2015
---
Photographs © Hamill Gallery
NIGERIAN, HOE CURRENCY, Nigeria
Forms like these iron "tools" were recognized and used as currency by several peoples of what is now Nigeria. The two distinct forms both have a tang for attachment of a wooden handle, but none of these show signs that they were ever turned into tools.
GO TO NIGERIAN HOE CURRENCY ARCHIVES PAGE (ALL SOLD)
GO TO AFRICAN CURRENCY EXHIBITION PAGE
GO TO GEOMETRIES EXHIBITION PAGE
GO TO AFRICAN METALWORK PAGE
GO TO AFRICAN METALWORKS EXHIBITION PAGE