TOPOKE LIGANDA CURRENCY, Dem. Rep. Congo
These have all been vetted as authentic.
---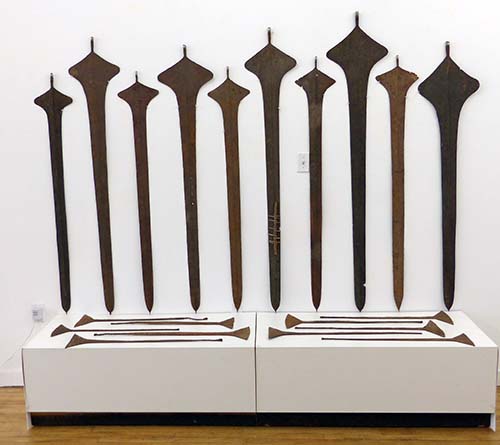 An installation view from our Ka-Ching exhibition, 2015
---
Photographs © Hamill Gallery

TOPOKE, LIGANDA CURRENCY, Dem. Rep. Congo
Forms like these iron shaped "weapons" and blades were recognized and used by the Topoke people as a bride price. They are called Liganda and range in size from the dihunga (59" x 9.5") to an unnamed size (64" x 12') to the doa (69" x 14"). They were used well into the middle of the 20th century. Ours are all embossed with a number of parallel lines close to the left edge, which shows through on the other side as well.
They are much too thin to have ever been intended as functional weapons and are not sharp. Many have some damage, check the condition reports. They are difficult to mount because of their tall size but can be easily hung on a wall with a small loop of line as in the last photograph.
Digital library of Georgia, Tubman African-American Museum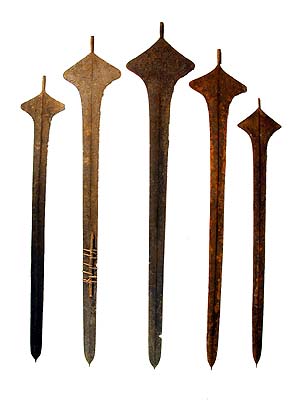 GO TO TOPOKE CURRENCY ARCHIVES PAGE (ALL SOLD)
GO TO KA-CHING! EXHIBITION PAGE
GO TO AFRICAN CURRENCY EXHIBITION PAGE
GO TO GEOMETRIES EXHIBITION PAGE
GO TO AFRICAN METALWORK PAGE
GO TO AFRICAN METALWORKS EXHIBITION PAGE