TUAREG HOE CURRENCY, Niger
These have been vetted as authentic with signs of use.
---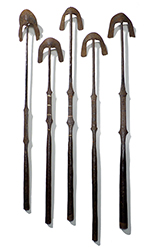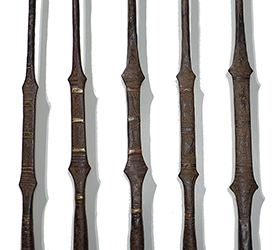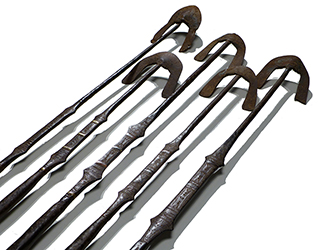 TUAREG
Hoes 12-17
22"-30" long x 5.25-7" wide
ALL SOLD
Photographs © Hamill Gallery
TUAREG, HOE CURRENCIES, Niger
The Tuareg, nomads who travel all over the Sahara desert are primarily herders and traders. Skilled craftsmen made elegant forms from brass and silver metals. These brass forms were recognized and traded as currency, yet some were also used as bracelets. All are solid brass.
GO TO KA-CHING! EXHIBITION PAGE
GO TO AFRICAN CURRENCY EXHIBITION PAGE
GO TO GEOMETRIES EXHIBITION PAGE
GO TO AFRICAN METALWORK PAGE
GO TO AFRICAN METALWORKS EXHIBITION PAGE
GO TO TUAREG ART PAGE
GO TO TUAREG LOCKS PAGE