This page is a record of an exhibit that took place
in 1993. The individual links below will take you to
the CURRENT VERSION of the pages
that formed part of that exhibit.

BAGA SCULPTURE
AUGUST 6 - SEPTEMBER 29, 1993

The Baga Sculpture exhibition opened with a thorough collection of the largest masks in traditional African art. The massive, boldly carved Nimba (great masks), worn over the head, weigh up to 80 Ibs. and are supported on the shoulders. They represent fertility and are used in agricultural ceremonies. The exhibit includes more than twelve of various sizes and regional styles.

Tall Kakilambe (protective serpent figures), and two figures representing deities, are further evidence of the traditions and power of the governing Simo society. Elek, or Anok (shrine heads), symbols of lineage, are smaller works and are carved in two pieces. Also from Guinea in West Africa are five impressive Banda masks, from the neighboring Nalu peoples. Worn horizontally on top of the head, the masks combine several animal and human features in a very complex painterly and sculptural form. The imposing scale, drama and contrasting imagery of all these works create a uniquely powerful show.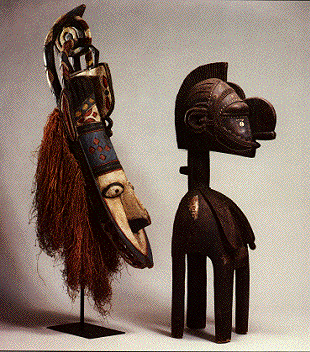 BAGA, BANDA and NIMBA MASKS, Guinea
Photograph © John Urban
BAGA / NALU, BANDA MASK, Guinea

These large, horizontally worn masks, Banda, are used by the nearby and closely related Nalu people. The masks blend features of crocodiles, antelopes, sharks and humans in a very complex, Baroque style. They symbolically guard households, crops and even entire villages. They appear in harvest ceremonies.

BAGA, NIMBA GREAT MASK, Guinea

The most important of the Baga art forms is the great mask, or Nimba. It represents the mother of fertility, protector of pregnant women, and presides over all agricultural ceremonies. The dancer, wearing a full raffia costume, carries the mask on his shoulders, looking out through holes between the breasts. In use, such masks rise more than eight feet above the ground; they often weigh more than eighty pounds. Most show a standardized pattern of facial scarification.
GO TO BAGA ART PAGE
GO TO BAGA NIMBA PAGE
GO TO BAGA SERPENTS 1 PAGE (1-20)
GO TO BAGA SERPENTS 2 PAGE (21-40)

GO TO BAGA SERPENTS 3 PAGE (41-60)
RETURN TO BAGA ART PAGE
RETURN TO PAINT! EXHIBITION PAGE
GO TO AFRICAN ANIMALS PAGE
GO TO AFRICAN FIGURES PAGE
RETURN TO MONUMENTAL MASKS PAGE