HORSE and RIDER
The horsemen below have been SOLD and are left here for educational and research purposes.


BAULE
Door 8
SOLD

DOGON
Horseman 15
SOLD




ASANTE
Horseman 1
SOLD

BAMANA
Horsemen
SOLD
HORSE and RIDER Exhibition
APRIL 2 - MAY 31, 1997
"HORSE AND RIDER", presents a wide range of traditional sculpture of a very prestigious theme in African art. Only the greatest leaders were depicted on horseback. Owning a horse was a luxury, only for the rich and.powerful or those of high rank. Being shown on horseback was a great honor and so was ownership of a sculpture of a horseman, celebrating aesthetic expression and indicating wealth and status.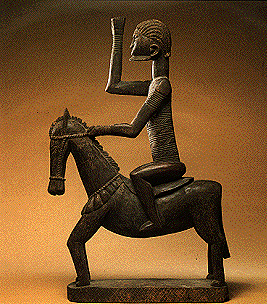 GO TO AFRICAN FIGURES PAGE
GO TO MASKS AND HEADS PAGE
GO TO NEW ADDITIONS PAGE