HORSE and RIDER
Those objects that have been vetted as authentic by outside experts (Christophe Rolley, Edith Mbella, Daniel Mato, Rand Ningali, Phil Warish and Ethan Rider) are labelled as such. Objects made for the market are labelled accordingly, and objects in our archives or on pages no longer on our website should be assumed to be inauthentic if not otherwise labelled.
The horsemen below have been SOLD and are left here for educational and research purposes.


BAULE
Door 8
SOLD

DOGON
Horseman 15
SOLD




ASANTE
Horseman 1
SOLD

BAMANA
Horsemen
SOLD
HORSE and RIDER Exhibition
APRIL 2 - MAY 31, 1997
"HORSE AND RIDER", presents a wide range of traditional sculpture of a very prestigious theme in African art. Only the greatest leaders were depicted on horseback. Owning a horse was a luxury, only for the rich and.powerful or those of high rank. Being shown on horseback was a great honor and so was ownership of a sculpture of a horseman, celebrating aesthetic expression and indicating wealth and status.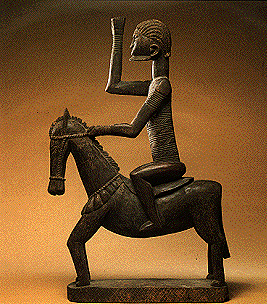 GO TO AFRICAN FIGURES PAGE
GO TO MASKS AND HEADS PAGE
GO TO NEW ADDITIONS PAGE